Manly boat Typhoon shed the hoodoo which threaten to de-rail its Australian 16ft Championship title defence, chalking up a first and second as the national regatta continued in brilliant conditions on Monday.
Typhoon skipper Nathan Wilmot has been checking for black cats and avoiding ladders after a string of bad luck hampered preparations and flowed into heat one on Sunday.
"We've had an interesting run into these nationals…broken booms, crashing into boats and a few other problems," he said as he enjoyed a post-race beer.
"Yesterday we put a new boom on and the vang didn't fit properly when we got out there and the mainsheet twisted up and then the centreboard started filling up with water.
"I never thought we were jinxed but we had a bad run and hopefully that's over with now. "We sorted a few things out last night and this morning, so it was nice to get back out there and finish a race for a change and get a couple of good results under our belt."
Manly clubmate Sail Racing (Felix Grech) held off Typhoon by three seconds to win heat two in the early afternoon before Wilmot went one better in heat three, sailed on a picture-perfect day on Sydney Harbour. The 1-2 has given Typhoon an early advantage on the overall pointscore after the opening heat was abandoned on Sunday due to a contentious decision by the Harbour Master to order a halt to racing to allow an ocean liner to depart the Heads.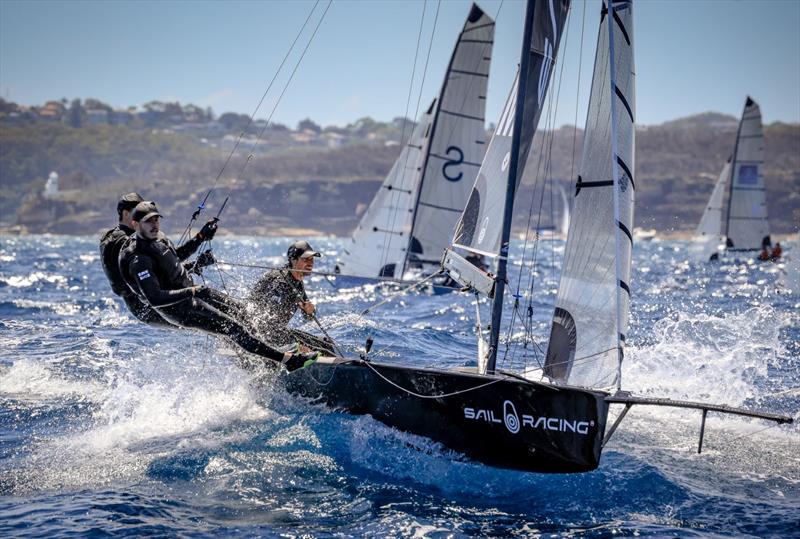 Sail Racing sits second with Moonen Yachts (Daniel Turner), Eric's Storage (Harry Lawson) and IMEI (Dave Gilmour) rounding out the top five.
Wilmot failed to win a heat in taking out the national title aboard Ronstan 12 months ago, so knows there are plenty of twists and turns coming over the next few days.
He said: "It's a long regatta and there is a lot to play out, so you just take what you can when you can get it. "We got lucky (on Sunday) with the race being abandoned as we were looking at a DNF (Did Not Finish) and now we've got two good results under our belt. "We know the boat's fast and in those conditions it's been pretty quick all season, so we knew we could take advantage of it. "The old fella (Mal Page) and the young bloke (Zac Barnabas) sailed incredibly well."
Typhoon sailed a near faultless race in a light easterly to clinch heat three by almost a minute from Moonen, Sail Racing, Eric's Removals and Noakes (Dave O'Connor). Middle Harbour's MH44 (Eva Attwood) has cleared out to an early lead in the handicap division after a consistent start to the regatta.
And in the 13ft division, Manly duo EBIX (Jemma Hopkins) and Botany Scaffold (Sophie Hart) share the lead after podium finishes in the opening two races.
The Australian 13ft and 16ft Championships continues with heats four and five on Tuesday.
Further information can be found at www.manlyskiff.com.au and skiffs.org.au